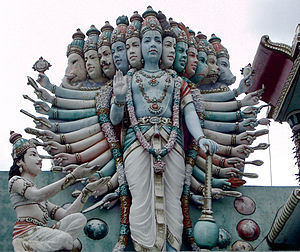 Hinduism is the oldest religion enlightening the humanity with its pearls of wisdom since ancient times. It is interesting to note that Hinduism is one such religion where there is no single GOD or a single messenger of GOD just like other prominent religions. Concept of GOD in Hinduism can be quite confusing at times- The reason is not its lack of clarity, but is the flexibility given to each individual to worship his own Ishta Devta depending on his family and cultural background, which is also decided by his current beliefs and psychological requirements. There is a GOD for every individual.
It is the tendency of mind to become what it thinks about, or to adopt the properties and characteristics of someone on which it dwells for a longer time. It is because of this reason every individual is free to choose his GOD as per his faith and need. There is Goddess Lakshmi for someone wants to be rich, Maa Saraswati for someone wants to be a knowledgeable person, and Maa Annapurna to cater to Food requirements. A devotee of Lord Hanuman will seek strength like him and devotion like him. People have freedom to make Lord Rama or Lord Krishna, as his ideal and follow his rules and principles. It is all about faith and belief. Now in spite of different beliefs in different parts of India, there is still an underlying unity on the concept of Supreme Divine.
That Supreme Divine is the One who is infinite and eternal also named as "Brahman". The term Brahman used for Almighty GOD is because he is the Lord of the entire 'Brahmand' – called Cosmos, taking human incarnations from time to time in different yugas to save the humanity. Next to Brahman are his manifestations as 'Tridev' or 'trinity' – Three Gods named as Brahma, Vishnu and Mahesh. These three GODs are responsible for three important activities of the Cosmos- that is its Creation, Operation, and Destruction. This is the way Cosmos operates and can also be understood as unending 'Simple Harmonic Motion' in scientific terms.
Further down the line – Hinduism also talks about a separate God responsible for very specific operations of cosmos. Its like a Government running the cosmos with the help of different officials by giving them different responsibilities. In this way there are around 33 Gods in Hinduism to cater to cosmic requirements. And nothing in the universe is happening randomly without the guidance of an intelligent force.
Having said all that above, one question is still remain unanswered the meaning of GOD- why only GOD term is assigned in English for that Supreme Brahman. Now there are three very interesting things to be noted which can explain it up to a certain extent. They are as follows:-
The term GOD can be expanded as 'Government of Divinity' ruling the cosmos with the help of various gods responsible for various things as explained above in the post.

GOD can also be expanded as – Generator: for Brahma , Operator :for Vishnu and Destroyer: for Shiva. This explains that it is the short version of Brahma, Vishnu and Mahesh all together and signifies the Great Trio – 'Tridev'.

If we consider in English alphabets A as 1, B is as 2, C as 3 and so on, then we will realize that G is for 7, O is for 15 and D is for 4. Adding all three makes it 26- that is interestingly the total number of alphabets in English. Hence the term GOD is self-sufficient and complete in itself. Interesting!!