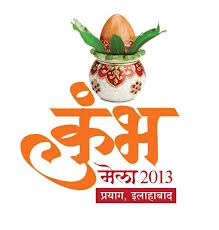 Kumbh Mela is the biggest gathering of people in the world where people from all over the country come down to the festival to take a dip in Holy Water of its sacred river. This year it is at river Ganges at Prayag, Allahabad. As per a report this year total gathering of 10 Crore people is expected.
There are various legends behind the cause of this Grand Festival- The most famous is of the war between gods & demons for the Amrit (Nectar of Immortality). During this war for 12 days, few drops of the Amrit fell from the Kumbh (the vessel) on four cities of India
, which are Ujjain at the bank of Shipra river, Nasik at the bank of Godavari river and Haridwar & Prayag at the bank of Ganga river. Since this war for the nectar of immortality took place for 12 days, and as per Vedas, 12 days of gods is equivalent to 12 human years, Kumbh Festival is celebrated after every 12 years at these four places. Similarly MahaKumbh is celebrated after 12 Kumbhs, ie after 144 years. This years Kumbh Festival is actually a MahaKumbh came after 144 years, and thus holds a special importance among the devotees and hence a massive crowd can be seen at Prayag in this MahaKumbh.
Kumbh Mela is not just a ritual of taking a dip at river, but with a gathering of Sadhus and other holy people from across the country at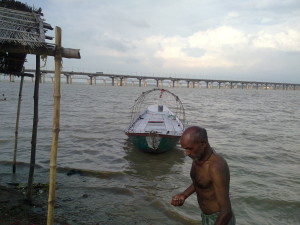 one platform, it has become a hub of vast knowledge of Vedic & Cultural Wisdom shared by the sacred society of these Sadhus with the common man. Literal meaning of Kumbh is 'vessel with the nectar of immortality', and with the presence of these knowledgeable Saints from various sects at the festival- It really symbolizes the vessel filled with precious nectar in the form of knowledge. Common Man can come down to Prayag to not only take a dip in Mother Ganges to wash away all his sins, but he can  get rid of his ignorance as well by taking a dip in the knowledge shared by these pious saints. Drinking the nectar of such knowledge from the hands of holy people and enjoying the pleasure and bliss in there company is as good as drinking the nectar of immortality.
Apart from it, In India the rivers are considered as holy & the deity of various goddesses. Mother Ganges is considered as the most auspicious of all, as it has directly came from Ksheer Sagar ( Ocean of Milk) from DevLok. As per a mythological legend Mother Ganga arrived on earth after a lot of efforts and Meditation by King Bhagiratha for the salvation of his ancestor's soul. Today also people bathe in this river to get rid of their sins (bad Karma) and to get (Moksha) salvation after the death. Prayag being the Sangam (Confluence) of three rivers- Ganga, Yamuna & Saraswati is holds greater spiritual value. Among these three rivers – Saraswati river no more exists on earth, but  said to be present there at Prayag under the ground and meets to the other two rivers at Sangam.
Below are some of the important dates considered to be most auspicious dates for taking bath at prayag because of its astrological importance:-
| | | |
| --- | --- | --- |
| Bathing Dates | Day | Occasion |
| 14th January 2013 | Sunday | Makar Sankarnti |
| 27th January 2013 | Sunday | Paush Purnima |
| 6th February 2013 | Wednesday | Ekadashi Snan |
| 10th February 2013 | Sunday | Mauni Amavasya Snan |
| 15th February 2013 | Friday | Basant Panchami Snan |
| 17th February 2013 | Sunday | Rath Saptami Snan |
| 18th February 2013 | Monday | Bhisma Ashtami Snan |
| 25th February 2013 | Monday | Maghi Purnima Snan |
| 10th March 2013 | Sunday | MahaShivratri Snan |
Its because of above various reasons one can see masses from saint society as well as common man gathering at Kumbh with all their devotion and spiritual pursuits. There are saints from various Akaharas as well, which are also one the center of attraction for devotees. Below is the list of various Akaharas marking their presence at Kumbh:-
 Saivas  Sanyasi Akhadas

Vairagi Vaishnava Akhadas

Udasin Sampradaya Akhadas

Shri Panchayati Akhada Mahanirvani
DaraGanj Prayag Allahabad
Shri Digambarani Akhada
Samalaji Khaka chauka mandir Sambar Kantha GJ
Shri Panchayati Bada Udasin Akhada
Krishna Nagar Kiidganj Allahabad,
Shri Panch Atal Akhada
Chaak Hanuman KatuhaPura Kasi Varanasi
Shri Nirvani Akhada
Shri Ahyodhya ji Hanuman Gadi Faizabad
Shri Panchayati Akhada Naya Udasin
Kankhal Haridwar
Shri Panchayati Akhada Niranjani
47/44 Mori Daraganj Prayag
Shri Nimrohiani Akhada
Shri Nimrohiani Akhada
Shri Nirmal Panchayati Akhada
Sita ghat road kankhal haridwar
Taponidhi Shri Anand Akhada Panchayati
Swami Sagaranad Asharm Trikamsevar Nashik
Dhir Samir mandir vanshivat virndavan
Shri Panchadashnam Juna Akhada
Bada Hanuman Ghat kasi,Varanasi
Shri Panchadashnam Ahvan Akhada
D 17/122 Dashasmeva ghat kasi,Varanasi
Shri Panchadashnam PanchaAgni Akhada
Talhati Girinagar po Bhavnath junagar(GJ)